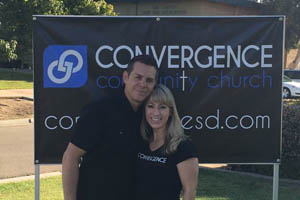 Based in the community of San Carlos, Convergence Community Church is a new church focused on reaching San Diego and it's surrounding areas with the life changing gospel of Jesus Christ. Our Sunday gatherings are held at 9am in the San Carlos Recreational Center located at 6445 Lake Badin Ave., San Diego, Ca. 92119.
A creative movement at its core, Convergence Community Church hopes to be a place of exploration and empowerment. We're committed to helping everyone find and fulfill their purpose in Christ.
Our Mission
We exist to help people find Christ and fulfill their purpose.
Our Vision
We envision a place where the people of God converge with the purpose of God in establishing the kingdom of God.
Our Strategy
God created humankind for the purpose of meaningful community. He designed us with an innate desire to develop intimacy with Him and His children. That's why we've established a three pronged approach to developing God-focused communities within our city:
Encourage New Communities: We will encourage new, God-focused communities in and beyond our city.


Enhance Current Communities: We will endeavor to enhance God-focused communities in our city by providing resources and events that will support their purposes.


Empower Future Communities: We will purposely empower God-focused individuals to reach our city with the life changing message of the gospel. In turn, it is our desire to see new God-focused communities established in and around our city and the world.